An Environmentally Sustainable City
There are several key elements that are typically considered in creating an environmentally sustainable city, including:

Planting Trees: The City prioritizes the planting of trees and the health benefits associated with it. Trees provide shade, decrease the amount of CO2 in the air, reduce storm water runoff, which improves water quality and so much more. In Norwalk, we've made tree planting, including and importance of adding trees throughout the City's Urban Forest, a huge priority.
Sustainable Urban Design and increasing Electric and Hybrid Infrastructure: We prioritize doing the research and getting behind infrastructure that is best for our resident's health and well-being, that will reduce co2 emissions and help address the threats to climate change.
Water Conservation and Management: The City prioritizes the conservation and efficient use of water resources and promotes the use of sustainable water management practices.
Waste Reduction and Management:

We prioritize recycling, composting, and work to reduce waste consumption at the source.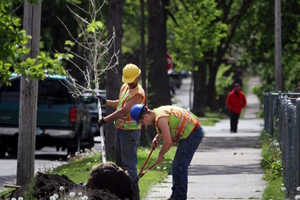 ---
Number of Trees Planted
The City of Norwalk conducts a tree planting program with the goals of:
Enhancing parklands and open spaces
Expanding the environmental benefit of trees in the urban landscape, such as reducing extreme heat, providing shade, reducing street traffic, building community and beautifying neighborhoods.
Improving the aesthetics of streetscapes.
Each tree planted is added to the City's tree inventory and entered in the tree layer of the City's Geographic Information System (GIS).
For additional information: Tree Planting Program / City Tree Planting Map
Note: This chart reflects current year-to-date data.
---
Norwalk Heat Vulnerability Study
The University of Connecticut's (UCONN's) Connecticut Institute for Resilience and Climate Adaptation (CIRCA) has partnered with the City of Norwalk, along with a few other CT towns, to study the impacts of extreme heat and climate change. This research studies the relationship between temperature, relative humidity, and dew point over the summer and fall months (June to October) and land features, such as the shoreline, forested, urban, and others, of participating CT towns and cities. The study's wireless sensors are mounted 8-10 feet above the ground on trees or poles and, for Norwalk, are placed at 13 different locations around the City (see map image).
The study started in 2022 and continued into 2023. The data collected will help CIRCA researchers learn more about the local impacts of heat, which will be important in efforts to slow the threats of climate change in CT, including Norwalk. Additionally, the City has and will use this data to inform decisions to address the effects of climate change on our Norwalk community through efforts such as:
Cooling center planning
Tree and other plantings
Resident health effects and equity research
Planning and zoning, engineering, traffic, and other initiatives
This is an exciting and fruitful collaboration between Norwalk and UCONN.
More info about the study: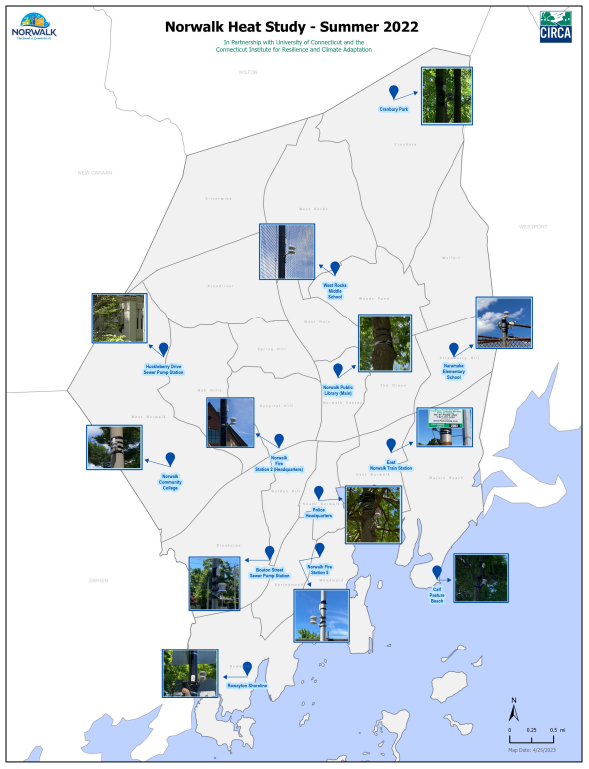 ---
Fleet of Hybrid/Electric Vehicles
In an effort to reduce carbon emissions and promote sustainable transportation, the City is expanding its electric and hybrid fleet of city-owned vehicles. The City is also investing in electric vehicle charging infrastructure and working with automakers to find affordable electric vehicles that meet the present and future needs of residents and visitors using electric vehicles. By transitioning to electric and hybrid vehicles, we hope to reduce air pollution and our reliance on fossil fuels and enhance the quality of life for all residents.
The Electric Vehicle Chargers graph represents public and private in the City of Norwalk and reflects current year-to-date data.
Additional resources:
---
The City's Wastewater Treatment Facility Capacity ( Million Gallons Per Day)
The Norwalk Wastewater Treatment Facility has a design capacity of 18 million gallons per day (MGD) and a peak hydraulic flow of 30 MGD through full treatment. The facility can handle wet weather flows up to a peak of 95 MGD. Flows above 30 MGD are directed through wet weather treatment.
Background information:
Since the 1930s, the City has diligently disconnected the stormwater and wastewater systems. This has led to the average daily flow of wastewater to the treatment plant decreasing in the last several years. The City's collection system performs well because of the City's diligent efforts to assess and enhance infrastructure over the last several years. The WPCA reviews every development site plan prior to City approval to ensure that the collection system and wastewater treatment facility have sufficient capacity for all new projects. As part of this review process, the WPCA calculates existing and proposed wastewater flow and capacity at the proposed site. All projects are further required to undergo flow monitoring for at least four weeks prior to approval.
---
Annual Rainfall
The Norwalk Health Department (NHD) monitors rainfall throughout the year, as excessive rainfall and surface run-off can end up in freshwater streams and marine waters. Specifically, 1.6 inches or more of rain in 24 hours significantly increases the level of bacteria in fresh and marine water sources, which poses a threat to swimmers and shellfish beds. NHD closes bathing areas for at least one day and shellfish beds for at least seven days after heavy rain higher than 1.6 inches in 24 hours. Visit our rain gauge page for rainfall records by visiting https://hub.norwalkct.gov/RainGauge/
Note: This chart reflects current year-to-date data.
---
Number of Catch Basins Cleaned
Storm prevention and proactive flood mitigation are critical strategies aimed at reducing the potential damage and adverse impacts of severe weather events, especially heavy storms and floods. Our crews diligently clean all catch basins throughout the City, ensuring smooth water flow during heavy rains.
As part of the routine maintenance schedule, the Public Works Department dispatch teams clean and inspect catch basins, maintaining the City's drainage infrastructure.
---
Number of Feet of Sewer Cleaning
The proactive and routine cleaning of sewers serves as an indispensable measure to mitigate the potential for blockages, especially during periods characterized by excessive rainfall and severe storms. The City's unwavering commitment to the diligent maintenance of its sewer systems plays an instrumental role in preserving the unobstructed flow of water through these conduits. This not only ensures the effective drainage of stormwater but also substantially contributes to the protection of residents and the environment from the escalating threats posed by climate change.
Note: This chart reflects current year-to-date data.
---
Number of Linear Feet of Closed Circuit Camera Inspections of Pipes
The City inspects the conditions of existing storm and sewer pipes in public spaces on the right of way. These inspections help the City understand when pipes need to be replaced or maintained. The process includes inserting a camera into the sewer pipe for visual inspection to assess the condition and maintenance of the asset. Inspection footage from closed circuit camera inspections of pipes is used to identify obstructions such as invasive tree roots, grease build up, and cracks or breaks in the piping.
Note: This chart reflects current year-to-date data.
---
Tons of Recycling Collected
The collection of recycling in Norwalk signifies a commitment to sustainable waste management. It reflects the City's dedication to reducing landfill waste and conserving valuable resources by diverting recyclable materials. The quantity of the collection also contributes to Norwalk's environmental goals, promoting a cleaner and more eco-friendly community. Additionally, it demonstrates active citizen engagement in recycling initiatives, fostering a strong sense of environmental responsibility among Norwalk residents.
The tons of recycling in the graph represents the total amount of recycling materials disposed of by the City.
Note: This chart reflects current year-to-date data.
---
Tons of Food Composting Collected
The City of Norwalk has three food composting drop off locations. Composting includes collecting food scraps and using them as a resource that can be turned into useful compost. Recycling food scraps into compost captures nutrients and energy and returns them to the environment. When food scraps are sent to a landfill or incinerator this resource is lost. In a landfill, food scraps create methane, which is a potent greenhouse gas that traps CO2 and contributes to climate change. When sent to an incinerator, food scraps reduce the efficiency of the incinerator because they contain water and therefore don't burn well. Composting food scraps turns that story around! Instead of wasting energy trying to burn food, or creating methane from landfilling it, composting food scraps produces a useful and valuable product that gives back to our nutrient life cycle resulting in cleaner soil, water and air.
Cranbury Park (opened in 2022)

Bins are available for Drop-off at Cranbury Park (300 Grumman Ave). Enter the park through the main entrance and the bins are located to the right of the mansion.
Drop-off can be made any day of the week from 7:00am - 7:00pm.

Rowayton Community Center

Bins are available for Drop-off at the Rowayton Community Center (33 Highland Ave), behind the library and across from the equipment garage.
Drop-off can be made on Mondays at anytime.

Norwalk Transfer Station

Bins are available for Drop-off when the Transfer Station (61 Crescent St) is open.
The operating hours are:


Monday - Friday: 7:30am - 3:00pm.
Saturday: 7:30am - 2:00pm.
---
Tons of Municipal Solid Waste Curb Collection
Municipal solid waste curb collection is a fundamental municipal service that efficiently gathers and manages everyday household waste from residential areas, contributing to a cleaner and healthier environment while promoting sustainable waste management practices.
The City of Norwalk curbside collection services the 4th Taxing District for garbage and the whole city for single stream recycling.
Note: This chart reflects current year-to-date data.
---
Municipal Solid Waste Collected at Transfer Station
The City of Norwalk's Transfer Station is open to residents and commercial businesses that generate waste in Norwalk. The Transfer Station manages a variety of different types of waste including municipal solid waste, single stream recycling, scrap metal, food scraps, electronics, books, textiles, freon appliances, oil, batteries, tires and propane tanks.
Note: This chart reflects current year-to-date data.
---
Tons of Bulky Waste Collected
The Bulky Waste Collection program is available to residents within the 4th Taxing District who receive garbage and recycling services from the City of Norwalk. The program aims to help residents properly dispose of materials to reduce improper disposal of bulky waste items.