Walkability and Connectivity
Walkability and connectivity are crucial elements in urban planning that promote healthy, vibrant communities by enabling easy pedestrian movement and efficient transportation links.
Improving our Roads: Helps create a safer environment for all modes of transportation.
Creating Pedestrian-Friendly Streets: Adding sidewalks, bike lanes and bike racks create more transportation options, encouraging more people to consider walking or biking instead of driving.
Enhancing Public Transportation: Investing in public transportation options like buses and rail can improve connectivity and make it easier for people to get around without a car, reducing carbon emissions and giving people more transportation options.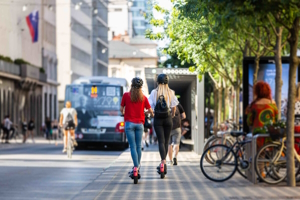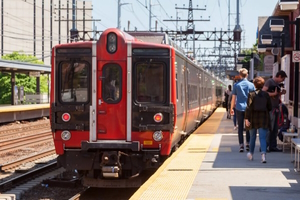 ---
Linear Feet of Sidewalks Installed or Scheduled for the Year
Installing sidewalks in a neighborhood provides residents with safer and more accessible pedestrian pathways, encouraging walking and promoting a healthy lifestyle. Sidewalks also enhance community connectivity, allowing neighbors to interact and engage with each other more easily, fostering a sense of unity and social cohesion. Having sidewalks can increase property values in a neighborhood, making it a desirable place to live and potentially attracting more businesses and amenities to the area, further benefiting residents.
---
Linear Feet of Paved Roads Completed or Scheduled for the Year
Tracking linear feet of roads paved is essential for the City's Department of Public Works (DPW):
It helps in assessing the progress and efficiency of road construction and maintenance projects over time, enabling better project planning and allocation of resources.
It aids in budgeting and cost estimations, allowing the DPW to allocate funds effectively for future road infrastructure needs.
It allows for identifying areas that require immediate attention, such as high-traffic routes or roads with frequent maintenance issues.
---
Number of Roads Paved
Paving roads is crucial for enhancing transportation connectivity and promoting economic growth and development. Properly planned road networks that are paved significantly improve emergency response times. Balancing the needs for road expansion with environmental preservation is essential for creating and maintaining sustainable infrastructure that meets the demands of a growing population while minimizing ecological impact.
Read more about our Road Paving Program: Road Paving Program | Norwalk, CT - Official Website (norwalkct.gov)
Note: This chart reflects current year-to-date data.
---
Number of Road Repairs
Each month, the Department of Public Works addresses a wide variety of road repairs based on monitoring the City from out in the field and in response to constituent requests. These road repairs include filling potholes, addressing pavement patches, repairing curbs, restoring trenches, covering manholes and more.
---
Total Linear Feet of Bike Lanes
The City of Norwalk's Transportation, Mobility, and Parking Department (TMP), in conjunction with the Department of Public Works (DPW), is dedicated to enhancing the connectivity of our City. To achieve this goal, we utilize our Bike and Pedestrian Plan as a guide for developing new bike infrastructure throughout the City. We've already established a robust bike network, to which we add bike lanes wherever possible based on road geometries. The City has successfully added several bike lanes and continues to assess additional roads each year for new lane installations.
---
Bike Racks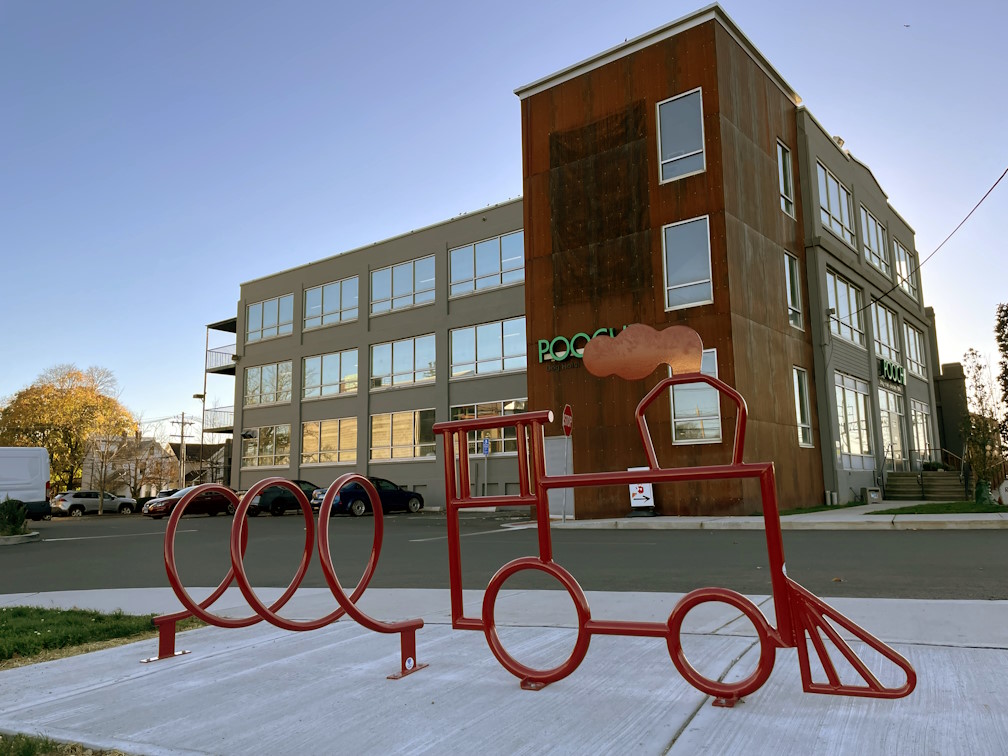 As of 2023, the City has nearly 90 bike racks. The City is determined to continue to enhance bike-friendly infrastructure by installing more bike racks throughout Norwalk. These racks are strategically placed near parks, train stations, shopping centers, and public buildings making it more convenient for residents and visitors to secure their bicycles. This initiative aims to encourage sustainable transportation options to promote a healthier lifestyle for the community.
Note: This chart reflects current year-to-date data.
---
Norwalk Transit District Bus Ridership
The Norwalk Transit District's (NTD) bus system allows residents and vistors to access another mode of public transportation, enhancing equity across the City. Public buses improve community health and mobility, provide economic benefits to the community, and reduce air pollution and road congestion by having less cars on the road. As we improve connectivity throughout Norwalk with bus services, bike lanes and sidewalks, more people can use the NTD bus services for everyday needs.
---
Train Station Parking
The City of Norwalk has four commuter train stations, with Metro North servicing all stations and Shoreline East providing connections at South Norwalk. These stations are East Norwalk, Merritt 7/Glover Avenue, Rowayton and South Norwalk. The City of Norwalk community is fortunate to have these four stations supporting the needs of our residents, employees, and visitors. Parking is provided through monthly permits and transient use at these locations. These parking numbers reflect the supply and demand for our transit users. The City monitors the parking demand, while Metro-North and CT Rail measure train boarding and alighting. As more Transit Oriented Development occurs around these transportation hubs, we monitor the peak parking demand per space compared to boardings. These are important measurements to determine future parking demands and needs.
* MetroNorth and CT Rail ridership data will be added in the future to indicate how many people not only utilize the train station services but how many people choose to park versus bike, walk or use the bus and shuttle services.
* Since parking is free at the Merritt 7/Glover Avenue Station, occupancy is not included in the parking station data, but we will continue to report on the parking supply.
---
Commuting to Work
Understanding the number of people leaving and entering Norwalk on a monthly basis is important for understanding commuting patterns in the region. It allows the City to better understand the needs to commuters and how to adapt its services accordingly.
---
Norwalk Walking Maps and Hiking Trails
Walking routes and hiking trails offer Norwalk residents a means to connect with nature and enjoy the City's scenic beauty. Walking and hiking are excellent forms of physical activity and benefit one's overall health and well-being. They also foster a stronger sense of community. Additionally, these walking routes and hiking trails attract tourists, support the local economy and showcase Norwalk's natural treasures to visitors.
Visit Norwalk Health Department NorWALKer to see the full list of Walking Maps in English and Spanish.
These maps highlight Norwalk locations, such as:
Calf Pasture Beach
Cranbury Park
Flax Hill Park and Golden Hill Neighborhood
Heritage Park
Oyster Shell Park
Silvermine
South Norwalk
West Norwalk